Frolic's Haunt is a fully accessible, 500 sq/ft walk-through home haunt (a "home haunt" is a non-commercial haunted house on private property; a "walk-through" means a haunted house that a visitor moves through, rather than a front-yard graveyard or other static set meant to be looked at). This is a labor of love that takes a lot of time, energy, and money, as well as volunteers willing to help.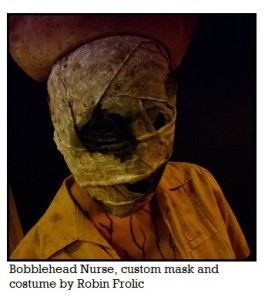 Why?

Wheelchair-accessible home haunts are extremely rare, and commercial haunts (which are also often inaccessible) are almost always too frightening for children and most young teens. That's why we started Frolic's Haunt. We believe Halloween and scary fun should be accessible to everyone who wants it, and Toronto needs a local home haunt so both disabled and non-disabled kids can come have a great time. It also provides an opportunity for disabled parents (see ◊ footnote) who want to bring their kids to a haunt and be able to go through it with their children.
When? 
We're open on Saturday October 28th, from 5 PM to 9 PM.  Due to the fact that we're running on one night only, demand will be high; in order to avoid disappointing people, visitors must reserve a time slot in order to attend.

Where?
We're in northwest Toronto (Ontario, Canada) near Wilson and Dufferin, close to two major highways (400 and 401) and the Allen. We're easily TTC-accessible, only a short bus ride from Wilson station. The exact address will be sent via email to groups who have made reservations.

How much does it cost?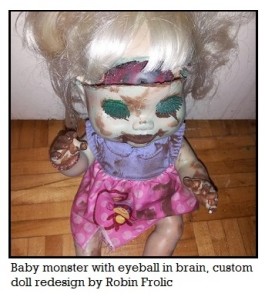 The Haunt is free to attend. If you enjoyed yourself and want to give us a donation on your way out, there will be a box outside the exit. All proceeds will be used toward the 2018 Frolic's Haunt; we have room to expand, and the speed at which the Haunt grows is only limited by funding and volunteer availability.
Want more info? 
Check the rest of our site for information on lots of ways to help out with the Haunt, get Community Service hours for high school students, how to add other accessible haunts to our Haunts Elsewhere list, find out what we mean when we say Accessibility, see our 2017 flyer, learn about our Choose Your Scare system, or meet some of the volunteers that are helping to run the Haunt. If those don't cover your question or comment, please contact us!
◊ Haunt overlord Robin is an invisibly disabled person and uses Identity-First Language ("disabled people") to reflect that disability can be an integral part of our identities. If you prefer Person-First Language ("people with disabilities"), please just mentally substitute that while reading our site.
Frolic's Haunt is a proud member of the Canadian Haunter's Association.